Flexible LED SMD 2835 2m TUN 10W/m 24V IP20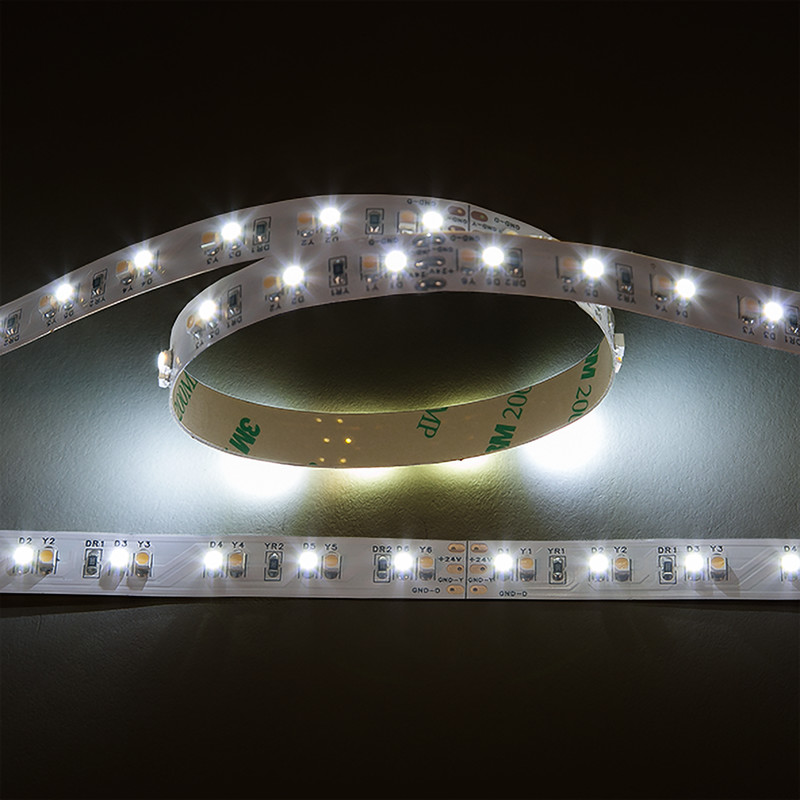 ---
Flexibles LED Tape Tunable White with SMD 2835
Product SKU: 5012440214
EAN: 4044538065274
Highly flexible LED tape with self-adhesive reverse side for easy and quick fixing with 30 cm connecting cable on both sides; reducible in 100 mm sections (12 LEDs).
The colour temperature can be individually mixed by the Bi-colour dimmer from 3000 K - 6500 K.
Maximum connected load of 100W (this equates to 10 m) may not be exceeded.
Dimensions (WxH): 12x2.5 mm; Number of LEDs: 120/m
Colour rendering: Ra >80; Colour distance (MacAdam): 4 SDCM
Rated life time: L80/B10 50.000 h
Bi-colour interface: COM+
Ensure sufficient cooling of the Flexible LED. It is necessary to mount the Flexible LED on heat-conductive material such as the aluminium profile.
Recommendation LED driver and control unit: EL-24V CV series and LED Bi-colour Dimmer or CASAMBI PWM4 Modul
Part number of the light source
EPREL-Registration number
L80B10 - life time at 25 °C [h]
Colour-tuneable light source
Peak luminous intensity [cd]
Chromaticity coordinates [x]
Chromaticity coordinates [y]
Non-directional [NDLS] or directional [DLS]
High luminance light source
Useful luminous flux [Φuse] [lm]
Useful luminous flux [Φuse] related to
Colour rendering index R9
L70B50 - life time at 25°C [h]
Lumen maintenance at median useful life of 50,000 hrs at 25 °C ambient (tq) [%]
Failure rate at median useful life of 50,000 hrs at 25 °C ambient (tq) [%]
Total luminous flux per meter [lm]
Colour of light
warm white-daylight white
Colour rendering index Ra
Colour consistency [McAdam] [SDCM]
LED driver
LED operating device voltage-controlled
Energy consumption during operation [kWh/1000 h]
Mains light source [MLS] or non-mains light source [NMLS]
Type of wiring
Suitable for through wiring
Type of dimming
LED Bi-colour Dimmer or CASAMBI PWM4 Modul
Max. current carrying capacity (at 10 m length) [A]
Rated current per meter [A]
Wire cross section
ca. 30 cm connecting cable on both sides
Furniture installation, fire protection 'MM'
Note
mounting on heat-conductive material is necessary
Lowest bending radius [mm]
Installation, electrical engineering expertise
Temperature Range [Ta] [°C]
Length of particular segments [mm]
Colour of printed circuit board
Characteristics
colour temperature can be mixed from 3000 K - 6500 K individually
Mounting method
surface-/recessed-mounted
Compatible with Amazon Alexa
Compatible with Apple HomeKit
Compatible with Google Assistant
Kind of disposal at the end of the life time
specific collection points, please consider the local regulations